RapidShare Alternative Of the Week – TransferBigFiles
Still looking for a RapidShare alternative? Don't worry I got it covered this week too! Unfortunately TransferBigFiles may not be as good as some of the RapidShare alternatives we had here in the last weeks but it's still one service to keep in mind - or in your bookmarks folder called "File upload services" of course! ;)
While TransferBigFiles can easily be used without creating an account signing up for a free account will give you access to a bunch of features you may need for example history of past transfers password-protected downloads or no bandwidth limit. A bunch of paid plans are also available starting at $5 monthly (file size per transfer is raised to 2 GB) and going up to $25 per month. More details about the available plans can be found here.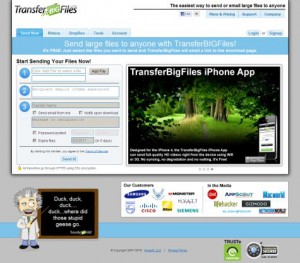 As a free user with or without an account you can upload small files not even close to "big" since the file size limit is only 100 MB far less than most competitors offer these days. Even worse when you upload a file you have to enter the email address of your file's recipient so there's no chance to upload here files that you want to share on a forum for example.
All right so what's the good part of today's RapidShare alternative after all? Well download speed was excellent even without creating an account while upload speed was also better than what I've seen when using other similar services. More than that you can gen a Windows desktop app that allows a bunch of interesting things such as multiple uploads better upstream speed or drag & drop uploads not to mention the iPhone app... so I guess there's enough here to make at least some of you interested in TransferBigFiles don't you think?
That's all folks! Have a nice weekend and remember not to share illegal stuff on the Web all right? Not that I am a fan of companies like Apple Microsoft or those two evil organizations I won't even mention here it's only the fact that one day you may end up finding your own work stolen... and that's not something you'll enjoy trust me.