Reduce Hardware Cost of Sound Card with Virtual Audio Streaming
Virtual Audio Streaming is a shareware application that virtualizes the soundcard which is attached to the computer. This means that with the help of this application users can virtually have two soundcards and can then use it accordingly. The application is capable of extracting audio signals from any videos and recording the sounds if required. If this application is configured and used smartly it can eliminate the requirement of any additional hardware device which is used to enable Stereo Mix feature in Windows Vista and Windows 7 operating systems. For those who don't know Stereo Mix feature allows users to send their voice and internal system sounds to any voice chat messenger simultaneously. Examples may include Paltalk Yahoo messenger etc.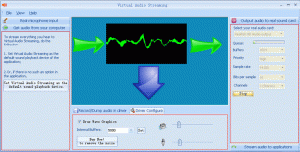 Pros
The application is digitally signed by Microsoft and therefore can be considered authentic and trustworthy.
The software can be installed on both 32-bit and 64-bit operating systems.
Virtual Audio Streaming is also capable of recording online music or voice chats.
With the help of this application users can broadcast their voices or sounds.
Cons
Virtual Audio Streaming application can be a bit confusing for new users because they might be new to the interface and might be unaware of the consequences and the technicalities of sound redirections.
Download Link: http://down.shiningmorning.com/VASetup.exe