Secure Your PC with Comodo Firewall
Comodo Firewall is a freeware application that works perfectly with Windows and can easily be downloaded from the official website of the vendor. The vendor offers a few other products as well such as Internet Security antivirus etc. The application works efficiently in the background by blocking any malicious incoming packets. It also allows users to configure the application according to the requirements by allowing or denying specific port numbers. The interface is easy to understand and therefore no additional training or technical skills are required in order to operate the software. Also the vendor claims that the application has been tested thoroughly and therefore can work as one of the best firewalls available in the market.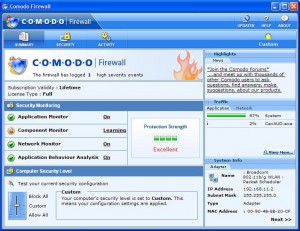 Pros
Easy to understand interface which allows users to configure the application smoothly.
Application is lightweight and therefore does not eat up additional processing and memory.
The application is available for both 32-bit and 64-bit platforms and the minimum requirements are very nominal which enables the application to run on older PCs as well.
The application is versatile as a single installer file can be used to install it on both Windows XP and Windows Vista architecture based operating systems.
Cons
No cons are yet reported or experienced while using Comodo Firewall.
Download Link (32-Bit): http://download.comodo.com/cis/download/installs/1000/standalone/cfw_installer_x86.exe