TheAeroClock: Free Desktop Clock Software
TheAeroClock is a simple but charming free clock software with analog display. If you want a simple but very charming clock for your desktop with analog display you are going to love TheAeroClock. Let's see if this freeware can increase the beauty of your desktop.
There is already a clock in our task bar so we really don't need a clock in our desktop just to check the time. But if you love to decorate your desktop you are going to love this decorative free desktop clock for your desktop. Digital clocks are good if you are concerned about just checking time. But if you want to decorate your desktop you need a clock with analog display. That's where this free desktop analog clock comes in. You can decorate your desktop with a transparent analog clock using this freeware.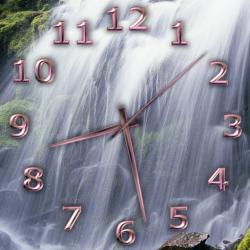 This freeware is very easy to use and portable so you don't have to worry about any installation process. You can set its transparency and size to make sure it's nicely blending in with other things placed in your desktop. You can also set this free clock software to always on top or just let it stay behind other windows. You can change themes customize color transparency textures and size which is really an attractive feature of this freeware.
Features of TheAeroClock:
Attractive easy-to-use analog display clock
Color transparency size and textures can be customized easily
Attractive themes
TheAeroClock is available for download at Software OK's website. It's only 1.82MB in size and supports Windows Me or higher. Try TheAeroClock Free