Remove Spyware from Your PC with Spybot
Spybot is a free security software that helps you to protect your PC from malicious spyware malware and unwanted threats. It can detect spyware malware and other malicious unwanted threats automatically and remove them from your PC. If you are worried about your PCs security and want to protect it from malware and spyware Spybot is the best option for you.
This free security software can also remove unnecessary programs and internet usage tracks from your PC. This feature can be very useful for people who share their PC with other people. There are two main tools available in this free security software a search and destroy tool and a recovery tool. There is an option to protect your web browser called immunize feature. It is a great tool for removing unwanted threats for both normal and advanced PC users.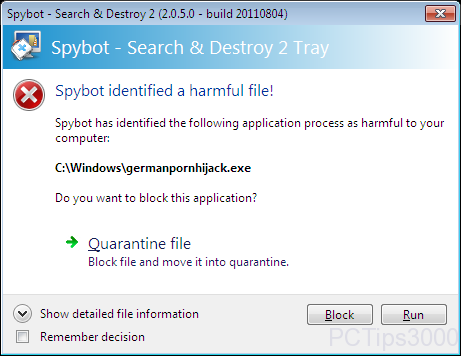 This free spyware removing tool comes with an attractive interface and is a portable software. It can be used from a portable storage device without any installation. Once you download the software you can start removing junk programs files and other security threats instantly as it does not require any installation. The scan for finding malware and spyware won't take long and will provide you a tree view of the scanned report. You can decide which files you want to remove and which ones are good for your PC.
Features of Spybot:
Remove unwanted spyware malware and other files from your PC
Does not require installation
Clean unwanted applications and web-usage tracks
Spybot is available for download at Safer Networking's website. It's only 19.46MB in size and supports Windows 7 Vista XP and 2000. Try Spybot Free