Resize Windows As You Wish!
First of all you should know that the program I am going to tell you about today is not compatible with Windows Vista. If that's OK with you then read on but if it's not don't worry - Vista has a pretty good image capture tool so you probably won't need this anyway... Anyway don't let me be misunderstood - we're not going to talk about any kind of image capture tool today but about one that helps you resize windows as you wish!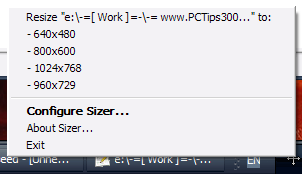 You're probably wondering why such a tool but if you ever had to take screenshots for any kind of online tutorial I am sure you'll agree that resizing windows to a fixed size is much better than taking the screenshots as they come and then resize them to match your needs. These being said ladies and gents please allow me to introduce Sizer my favorite window resizing utility (freeware of course) for Windows XP!
I know I know Windows XP may be not so far from extinction now with Windows 7 around and having so many positive early reviews but I've been using this tool for almost 5 years now and if at least a few of you reading this now will use it for at least 1 year and find it useful then my mission is complete. After all I am sure we'll have much more people still using Windows XP 3-4 years from now than the ones still using Windows 98 at this time for example... no need to get into details about the reasons right? ;)
To get started with Sizer all you need to do is install it using the 73KB installer program or if you want to simply put it into some folder and create the shortcut to it manually you can get the 17KB archive containing all the needed files.
How to use it? Just... use it that's how! Once you run the executable a nice icon will be displayed into your system tray and you should right click it to access the goodies. To resize the active window to one of the predefined sizes just right click the icon and then click the preset you want to use. It's just as easy as that!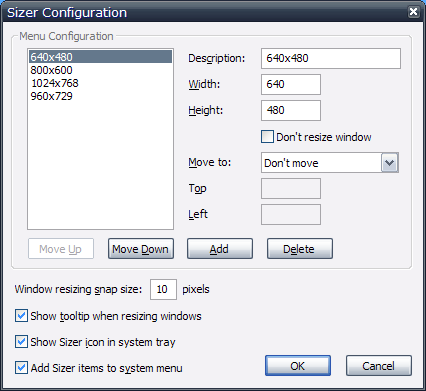 More than the above you can create your own presets as well as use the Precise resizing feature simply by grabbing the corner of a window right clicking it and then choosing the preset to use. For those using insane resolutions I am sure this is a very useful feature since they don't have to move the mouse all the way down to the system tray icon riiight? ;)
These being said I hope once again that somebody out there will find Sizer to be at least half as useful as it was to me in all these years. That's all folks!