Share Music without Expensive Hardware with Virtual Audio Cable 4.10
Virtual Audio Cable or VAC is a shareware application that virtually creates audio cables which can then be used to connect to the soundcards attached to the physical computers. The application is helpful for those who are into voice chats and the messengers they use also supports music. The cable is useful because when chat messengers like Paltalk and Ibibo are installed on Windows 7 and Windows Vista they do not support microphone input and audio signals which are generated internally from the systems simultaneously. Some sound cards do offer this feature but not all of them. When this is the case VAC proves to be the best solution.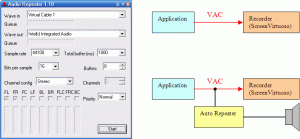 Pros
Virtual Audio Cable eliminates the requirement of any additional hardware device which might be expensive to purchase.
Complete tutorial and help is provided with the application so that the users may learn and become familiar with the interface.
Multiple cables can be created to transfer audio signals to various virtual devices attached to the physical soundcard.
Cons
Trial version of the application allows users to create maximum of three virtual cables.
Complexities of Virtual Audio Cable can only be understood by thoroughly going through the help and tutorials provided with the software.
Download Link: http://software.muzychenko.net/eng/vac.htm#download