SoftKey Revealer: Free Software Serial Key Utility
SoftKey Revealer is a free software serial key utility that helps you to find the serials and CD-key of all the installed apps in your PC. If you are thinking about reinstalling your PC or moving your installed apps to a different location SoftKey Revealer can help you to save a lot of time and money.
When we think about reinstalling Windows the first thing we mostly worry about is the software installed in our PC. Some of these software are installed a long time ago and we don't even have their serial key. So if you are worried that you might lose your software after reinstalling Windows Softkey Revealer is here to help you. You can easily save your time and money using this freeware and recover your serials and CD-Key needed for installing software. You can recover your Windows OS product key Microsoft Office product keys decrypt adobe keys and save them in a text file. This freeware supports more than 2000 popular software so finding your popular software key won't be a tough job for SoftKey Revealer.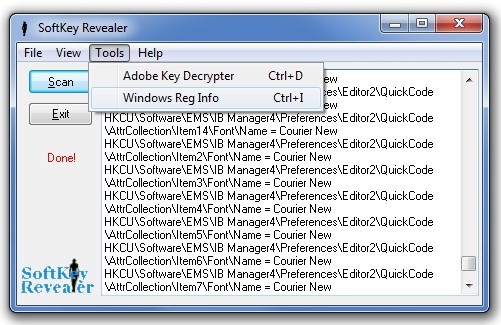 This free software key finder comes with a really simple easy-to-use user-interface. You just have to let this freeware scan for the serials and CD-Keys and it will display all the found serial keys in your PC. But if you are planning to find Game keys using this freeware you should know that games are not included in this free software key revealer.
Features of SoftKey Revealer:
Find CD-Key and Serials of installed software in your PC easily
Recover Windows OS Microsoft Office product keys and save them as a text file
Simple easy-to-use interface
SoftKey Revealer can be downloaded from SoftKey Revealer's Google page. It's only 176KB in size and supports Windows 9x or higher. Try SoftKey Revealer Free