Speakonia: Free Text-to-Speech Program
Speakonia is a free text recognition software that can read texts out loud. This free text-to-speech program can read any given text to you. If you are a busy person and want someone to read your mails webpages or other texts to you Speakonia is the best option for you.
This freeware can read your mails to you using its attractive clipboard reading feature. If you want to convert them into an audio file and hear them in a portable device this free text-to-speech program is ready to help you. This freeware can export the reading to a wave file and you can take them with you using your portable device. This freeware comes with 20 different voices and the reading can be customized by changing the pitch and speed. But you might face a little problem if you try the fix the pronunciation.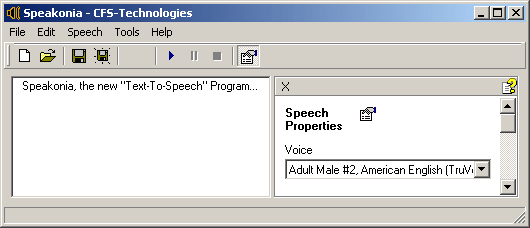 This freeware comes with a straightforward easy-to-use user interface. You just have to select the text that you want to hear and press Ctrl C. This free text-to-speech program can fetch webpages and read them to you if you want. You can pause or resume the reading whenever you want which is another attractive feature of this freeware. It's a really good software for vision-impaired people or people who wants to do all their reading with their ear.
Features of Speakonia:
Can read aloud any given text mails and webpages
20 different voices
Supports exporting the reading in WAV format
Speakonia is available for download at CFS-Technologies's official website. It's only 2.59MB in size and supports Windows 95 98 Me 2000 XP and NT. Try Speakonia Free