YourBrowserMatters.org, or...
... "How to Shoot Yourself in the Foot - a short story by Microsoft" should have been the full title of this article but I think the name of Microsoft's latest lame attempt at advertising its products placing them next to the competition is more than enough. Before moving on to what I have to say about this new fail by Microsoft I have to point out that despite the fact I usually respect Apple's power when it comes to marketing (yes that's another way of saying "selling anything good or really bad - doesn't really matter and making users happy with it") I didn't enjoy those "Mac vs PC" ads at all. In fact I hate all advertising that's spinning around showing what others don't have instead of showing what you really offer. OK...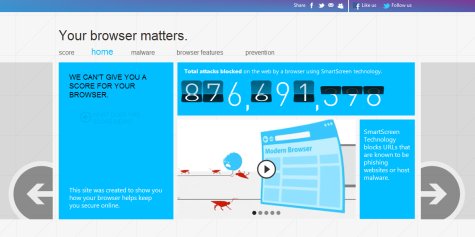 ... so what's that wrong about YourBrowserMatters.org? Well it only shows scores for Firefox Chrome and Internet Explorer that's the problem! Now let's take a quick look at those scores - Chrome 14 gets 2.5 Firefox 7 only scores 2 points while IE 8 gets 3/4 stars! Obviously the only browser in the whole galaxy that can reach 4/4 is Internet Explorer 9. I guess that browsers like Safari Maxthon or Opera don't exist in Microsoft's world if you ask me.
Hellloooo! Wake up people browsers like Opera Maxthon or Safari DO EXIST and from most points of view you can think of they kick some major IE a*s! Heh I guess I should try to translate "WE CAN'T GIVE YOU A SCORE FOR YOUR BROWSER." for all of you out there - "Your browser is too good to compare with Microsoft's so we won't give you a score." After all there's still a lot of room up to 10/10 points... :P