Oh no!!! Another Monday that day of the week most people I know love to hate despite the fact most of them have no idea who is Garfield... but since I got a pretty cool Google Chrome extension to start this week with right here let's jump straight to TabJump now shall we? ;)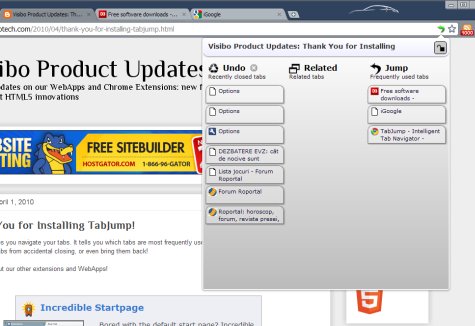 Advertised as an "intelligent tab navigator" TabJump is currently at version 0.7.9 released back in early February 2011 but the other numbers look pretty solid for a Google Chrome extension - a rating of 4.4/5 stars after no less than 133 user ratings and almost 46000 downloads. I know this doesn't even get close to those popular Firefox addons currently in the wild but it looks solid enough to me...
... but since that shouldn't be enough for you here's what can be achieved with TabJump: easy switching to the frequently used/related and even recently closed tabs as well as tab locking. I know it doesn't seem much but once you'll see how easy can be using TabJump you'll surely love it! Other than these... I guess it's almost pointless to say that this Google Chrome extension can be freely downloaded and used in every environment you can think of.
Oh yeah one more thing - if you still think that TabJump may not be your thing I strongly suggest that you take a look at this screencast to get a better idea of the whole mumbo-jumbo. That's all for now have a great Monday and a wonderful week!