USB Manager: Free USB Port Manager
USB Manager is a free USB port manager that helps you to manage all your USB ports easily in a smart way. If you want to enable or disable your USB ports to protect your PC from various USB devices you are going to love USB Manager.
Sometimes we want to control the devices connected to our PC via USB ports like printers storage audio devices scanners and other devices. But it's not possible manually if you don't have a software like USB Manager. This freeware also works like a free security software as you can disable your printer's USB port if there is something wrong or just lock it with password so no one will be able to use them without your permission. Only people with password will be able to unlock those devices. You don't have to worry about people using your PC and printing things when you are outside.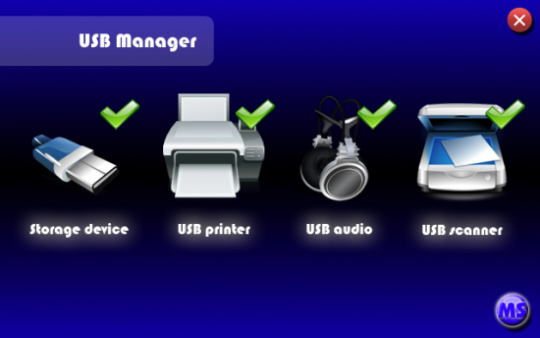 The user interface of this free USB port manager comes with a straight forward easy-to-use user interface. You can access to USB Manager from your system tray once this freeware is installed. You can access and enable/disable the USB ports once right from the system tray. You will find the software very easy to use once you start using this free USB port manager.
Features of USB Manager:
Manage your PC's USB ports easily
Lock your USB ports with passwords
User-friendly easy-to-use
USB Manager can be downloaded from Makesoft's website. It's only 1MB in size and supports Windows 2000 or higher. Try USB Manager Free