Top 5 Free Audio Editing Software
Audio editing software can be really helpful to create a unique mix of songs and voices to edit audio to copy/paste sound items from one file to another to filter out disturbing background voices and to convert audio file formats.
Here is the list of the top 5 free audio editing software that you can use to edit and manage your audio files.
5. Wavosaur                          Â
Wavosaur is an excellent audio editing software which supports VST plugins and ASIO driver. The audio editing software will allow you to edit your audio make mp3 ringtones and cut/copy/paste play/record and remove background voices. However the best thing about this audio editing software is that it does not write in the registry and has no installer!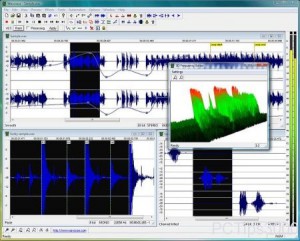 The downside of the audio editor is that it is a bit difficult to use for novices while it's last update came in 2009 and is not compatible with Windows 7 though it is compatible with Windows XP and Vista.
Try Wavosaur
4. WavePad Sound Editor
Wavepad Sound Editor is a very good audio and sound editor and possesses all the features that good sound editing software must have. It allows you to perform the basic audio editing functions like copy paste cut; silence etc while also allows you to add special features like reverse echo amplification and noise reduction. However the software has a commercial version which is laced with a lot more advanced features and it is for this reason that the editor is ranked at no.4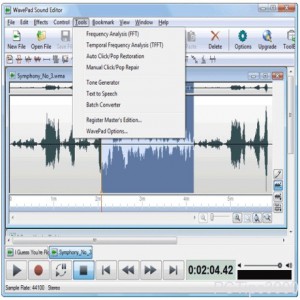 It supports a wide variety of formats like mp3 wma wav ogg flac and many others.
3. Power Sound Editor free
Power Sound Editor free is another powerful audio editing software which allows you to simply edit your music files. It is very easy-to-use has an intuitive interface and is loaded with a number of good features. It will allow you to perform the basic editing functions help you in removing noise while its batch editor is perfect to edit a number of files at once. Lastly it can also rip and burn audio CDs.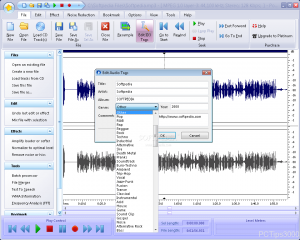 Even though the Power Sound Editor Free supports all the file formats it only saves the edited files in WAV format if you are using the Free version which will force the user to download a format converter too.
2. Audacity
Audacity is an excellent and really popular audio editor. It is a freeware and has some very efficient audio editing tools. Apart from the basic audio editing and recording tools Audacity has some of the best features. However Audacity is made for advanced users and is a bit difficult to understand for first-time users. If you are looking for advanced features then Audacity is made for you while you can try out other audio editors if you want to make simple ringtones.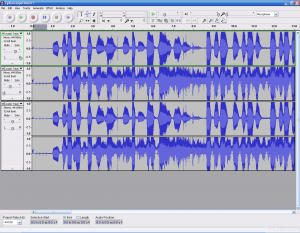 It supports all platforms i.e. Windows Mac and Linux/Unix
Try Audacity
1. Music Editor FREE
Music Editor FREE is a very powerful music and audio editor and is packed with a number of great features. It has a very intuitive and user friendly interface and you won't have to go through a steep learning curve in order to start using the Music Editor free. The software will allow you to record and edit your music files (it includes all the basic editing tools) will help you in enhancing your audio quality and is also able to rip and burn audio CDs with its free Audio ripper and burner.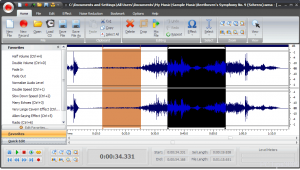 It's free and has a number of advanced features and still has a user-friendly interface which makes it stand out among all other audio editors.