Top 5 Free File Archiver 2011
When your Hard Disk is full and there is no space to store new files and you don't want to delete files then compressing big files is a good alternative way. Usually the compressed files are approximately 20% to 50% smaller in size when compared to original files. Furthermore transferring a file over the internet becomes easy as the file will take less time to complete the transfer process. Here are the top 5 free file compressing software.
5. ZipGenius
ZipGenius is a freeware file archiver supporting over 20 different file formats. The features of this software include drag and drop Windows Shell Integraion archive sending through mail etc.
Supported Formats: - ZIP CZIP CAB ARJ RAR ARC PAK MIM Z TAR JARWAR and more.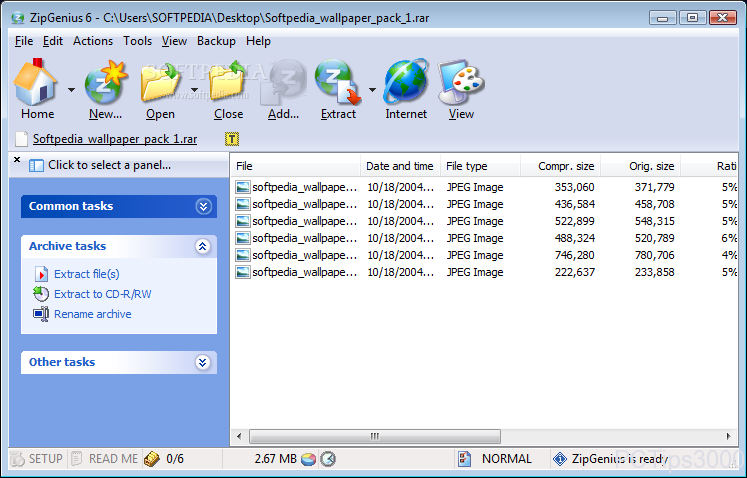 Get ZipGenius free.
4. IZArc
IZArc is one of the best free file archiever. It also supports conversion of one file format to another. IZArc has some cool features like online updates multiple language support drag and drop splitting files etc.
Supported Formats: - 7z ZIP TAR ACE BIN BZ2 BZA CAB IMG ISO JAR NRG PAK RAR and more.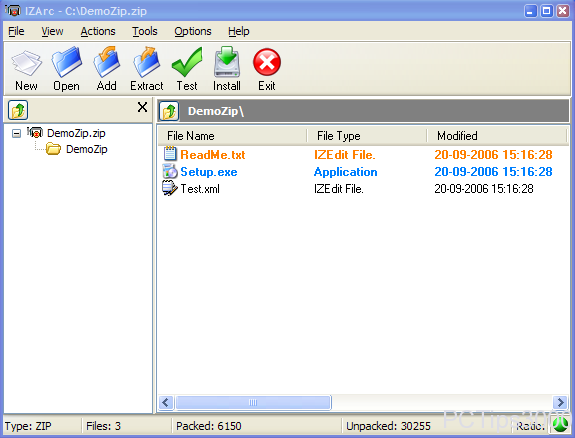 Get IZArc free.
3. PeaZip
PeaZip is an open source file archiver with support for over 130 file formats. PeaZip is very powerful and easy to use. It is lightweight and really quick in actions. The software is available in both 32 bit and 64 bit editions. PeaZip runs on both Windows and Linux platforms.
Create Formats: - 7Z ARC BZ2 GZ PAQ PEA QUAD/BALZ TAR UPX WIM XZ ZIP
Other Compatible Formats: - ACE ARJ CAB ISO JAR DEB RPM SLP LHA/LZH DMG HFS PAK RAR and more.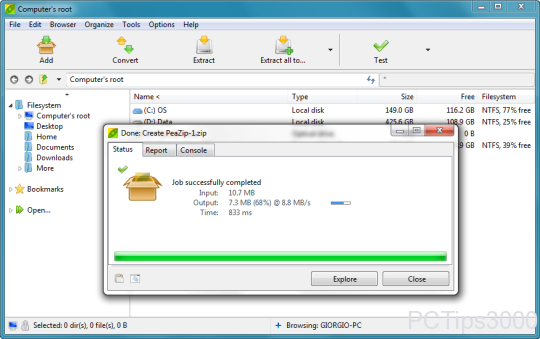 Get PeaZip free.
2. Hamster Free Zip Archiver
Hamster Free Zip Archiver is a good alternate of WinRAR and WinZip. The software has the best support for a large number of file formats and is available in over 40 languages. The software has a simple Graphical Interface making it one of the easiest compression tools. Even new users can create zipped files easily. Inbuilt presents and several themes are added advantage for Hamster Free Zip Archiver. It is compatible with Windows only.
Create Formats: - ZIP 7z TAR BZIP GZIP2
Other Compatible Formats: - ARJ CAB CHM CPIO DEB DMG HFS ISO LZH LZMA MSI NSIS RAR RPM UDF WIM XAR Z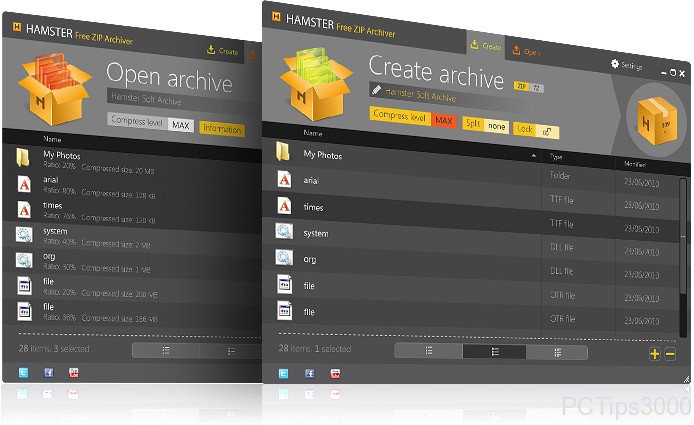 Get Hamster Free Zip Archiver.
1. 7-Zip
7-Zip is the best free file compression/decompression software available in the market. The native format (.7z) is approximately 40% of the total size of original file. It has a strong Windows Shell Integration. 7-zip is available in both Graphical User Interface and Command Line versions. Archives can be protected by using passwords.7-zip runs in Windows only. 7-zip is best suitable for those who frequently switch between Windows and UNIX.
Create Formats: - zip 7z tar arj gz/gzip bz/bz2 lha/lzh
Other Compatible Formats: - rar iso cab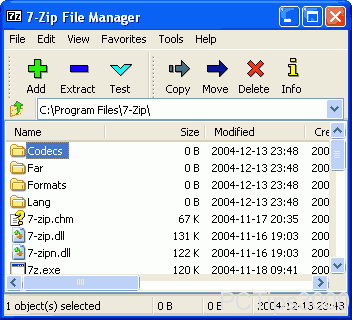 Get 7-Zip free.