Unable to choose a right BitTorrent site? The P2P traffic account to more than 25%-40% of total traffic on the web. So it is of the best concern that you choose the right web service for getting magnet links (.torrent). The top five BitTorrent websites are explained in this post.
5. Torrentz
Torrentz is a BitTorrent search engine. It is very much similar with BT Junkie as it also depends upon other trackers and website. The site calls itself - "Google of Torrent". The search engine is very powerful accurate and fast. The sire is indexing various TV shows games movies music etc. The Meta search engine is made more functional with use of JavaScript. 'Suggestions' feature is also available in the search engine.

Check Torrentz here.
4. Demonoid
Demonoid is the one of the largest torrent sites and BitTorrent tracker. However it is still a secret about the people running this website. The location of Demonoid rapidly changes. Currently it points to Keiv in Ukraine. The site is at the number 539 spot as per Alexa Global Ranking. It also ranked as top 3rd BitTorrent tracker by Alexa. The site indexes more than 300k torrents. New users' registration is for a very limited period only. However one may register if he/she receives an invitation. Demonoid restricts its torrents from viruses and pornographic videos.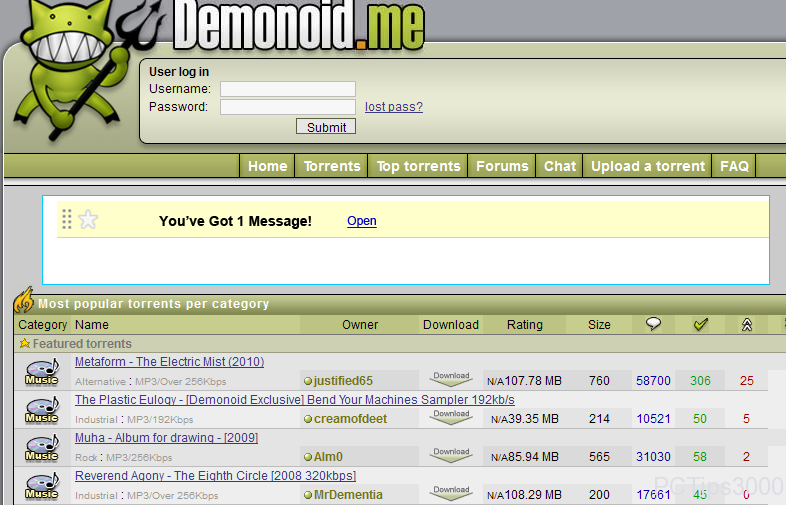 Check Demonoid here.
3. isohunt
Alike BT Junkie isohunt is also a search engine based torrent site. The site works on two servers located in Canada and Sweden. isohunt has a large storage of torrents. However the basic searches or queries are made for latest movies. User feedback is available on every file. This website contains nearly 7 million active torrents and more than 10 petaByte of shared data.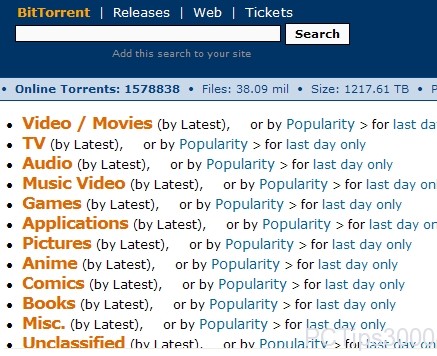 Check isohunt here.
2. BT Junkie
BT Junkie is a complete torrent search engine. Rather than giving its own torrents it updates its list of torrents from other websites. More than 4000 new torrents (magnetic links) are added every day. BT Junkie contains more live torrents than any other website which counts to over 4 million. Both private and public trackers are indexed by BT Junkie. Malicious torrent can be flagged up by the users. These types of torrents are generally removed after many flags. Rating option is also available to unregistered users too. BT Junkie is a tremendous source of torrent files. It is the world's largest torrent holder. The site is available in multiple languages.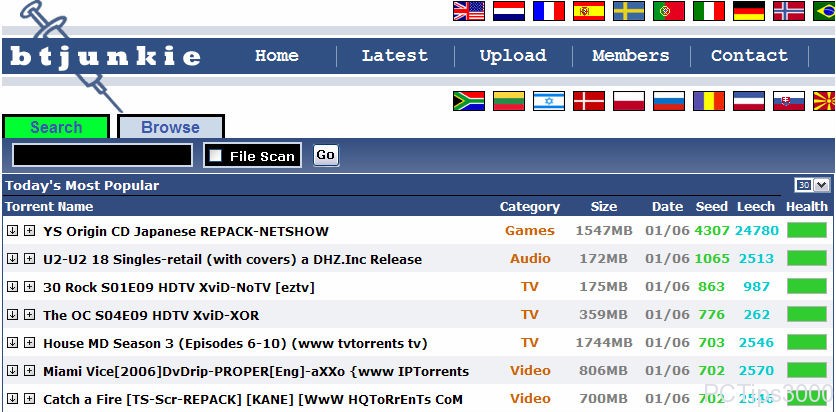 Check BT Junkie here.
1. The Pirate Bay
This Swedish originated website also known as TPB calls itself as "The world's most resilient BitTorrent site." There are more than 5 million registered users on The Pirate Bay. Latest PC software games movies TV shows music videos Apple applications e-books - everything is available on this site. The torrents are can be sorted on terms of upload date seeds leeches and size. Before downloading a torrent the comment's section can be checked to ensure that the file does not contain a virus or the quality of video is good.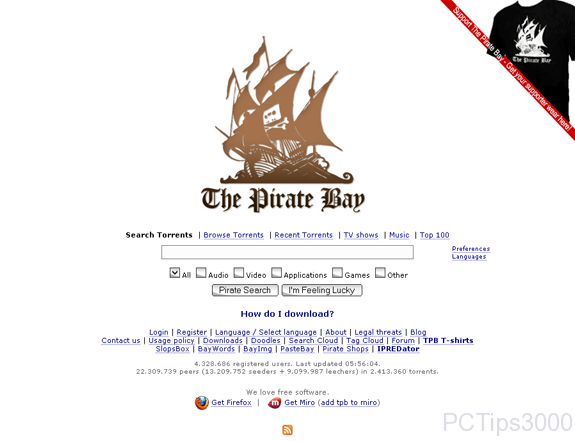 Check ThePirateBay here.