TreeSize Free, Portable Awesomeness
Can't figure out where disappeared all that free space you had on your hard drive last week? When you're the only user of a computer you're using some Windows cleaning utility and your free space continues to go away something's really fishy. Ever imagined that possessed computers may exist? A really frightening thought but I'm just joking chill out! If your free space is fading you should go ahead and grab TreeSize to see "where" and "what" don't you think?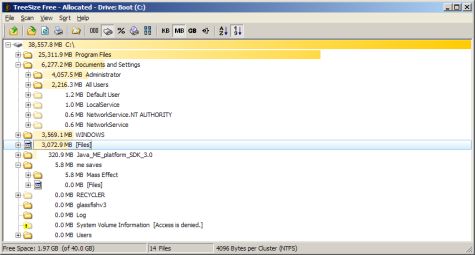 According to the Help file _"TreeSize Free tells you where precious space has gone to. It can be started from the context menu of a folder or drive and shows you the size of this folder including its sub-folders."_Speaking for myself I just started the program by running the executable file I downloaded in a ZIP archive and it all went smoothly - scanning was pretty fast and the features more than I needed.
Next to TreeSize Free JAM Software also offers TreeSize Mobile for smartphones as well as a bunch of commercial editions of this software not to mention the other freebies and commercial pieces of code available on the site.
At last here's something to make everyone happy: TreeSize Free version 2.4 is available as a standalone installer ZIP package and even U3 USB Stick-ready all for free. Is this awesome or better than awesome? :P