During all those years that I've been attending some form of education I always had to use blackboards and chalk. Fortunately blackboards and chalk are a thing of the past now at least for me. Whiteboards are much better especially when we're talking about Web-based ones that allow you to collaborate with people who may be on a different continent or maybe even in space!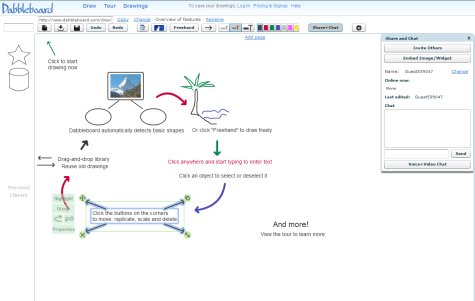 DabbleBoard is today's find and the last one of the year. Fortunately I think it's a good way to end 2010 - just think about a fun game: draw something together with a friend who's away before the new year's party and then try to draw the same thing when you wake up tomorrow or better before going to sleep... if you'll still be able to use a computer haha!
When it comes to features this website that started from a simple whiteboard idea gets quite a few interesting tools including voice/video chat. To get started with it there's no need to create an account but creating one will help you to save your designs for later use while paying for Pro membership (30-day free trial included) also gives you goodies like SSL/https encrypted access SVG download priority support or the ability to upload your own logo for a custom look. Sweet!
Oh yeah one more thing: have a Happy New Year and may all your wishes come true... at least as long as you're not dreaming to bring hell on earth or other things like that! ;)