YoWindow: Free Weather Software
YoWindow is a free weather software that provides you a beautiful landscape where you can get weather report just like you see from your window. If you are looking for a free weather application that comes with an easy to use fun user interface Yo Window is the best option for you.
Just enter the city you want to see and this freeware will show you the current condition of that city almost instantly. This freeware shows the sun rising and going down just like we see from our window in real time. There are different animations for cities and villages which makes this application more attractive. You will find three different landscapes inside the app or you can just make your own landscape from your pictures. But the free edition comes with only one animated landscape and three day forecast.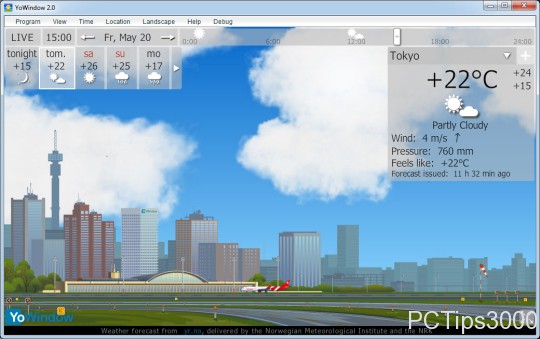 This free desktop weather software comes with an attractive and intuitive user interface. You will see clouds covering the sky fog rain snow and realistic thunderstorm when watching the weather report. You can set your picture as the landscape and see that it's raining on you. You can also think about using this freeware as your screensaver if you want. Overall it's an attractive free weather widget that presents weather reports in an attractive and fun way.
Features of YoWindow:
Get detailed weather reports
Enjoy weather reports with real time clouds rain fog thunderstorms and snow
Attractive animations
YoWindow is available for download at YoWindow's official website. It's only 6.09MB in size and supports Windows 7 Vista and XP. Try YoWindow Free