Since Windows XP came along one new system process arrived changing everything in its way. Unfortunately we're not only talking about positive changes here since svchost.exe was used by viruses as a disguise for too many times. Of course there are also positive aspects of this problem and we'll get to see them below. I know this may not look like a useful PC tip but understanding the basics of svchost will help you understand most svchost.exe errors (at least some of the reasons behind them) as well as how and why viruses seem to like this tiny program so much.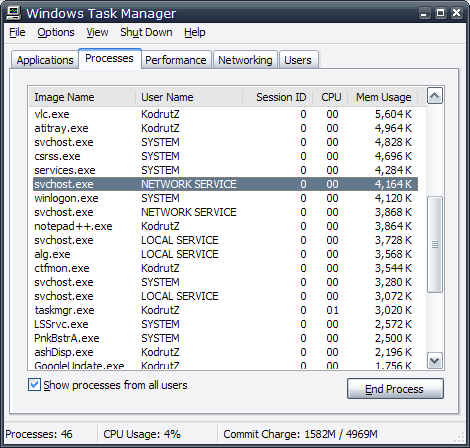 According to the official svchost page on Microsoft.com "Svchost.exe is a generic host process name for services that run from dynamic-link libraries (DLLs)." Now the things you should always remember about svchost.exe...
- The file is located in the %SystemRoot%System32 folder while viruses that don't replace the original usually use the Windows root folder or some other system folder like %SystemRoot%system and sometimes right in the %SystemRoot% folder.
- If you notice that svchost.exe is taking up too much processor time you can try to find the service responsible for it and kill the process; anyway it would also come handy to search for more info on Google first of all! ;)
- While using (ex-)Sysinternals Process Explorer is a very good way to find your path around svchost.exe in Windows XP Vista's improved Task Manager gives you a lot of power so be sure to check "Show processes from all users" and then right click one svchost instance followed by a left click on Go To Service(s).
- There will always be more instances of svchost.exe running so don't worry; the number depends on the services running on your computer.
I guess there could be said a lot more about svchost.exe but this isn't a detailed svchost guide. What I wanted to do is just scratch the surface and help you open your eyes. If you have any questions about svchost.exe don't hesitate to drop your comments below and ask them because it would be a real pleasure to help you find your answers!